AlaMab is a clinical stage biopharmaceutical company focused on commercializing novel monoclonal antibody therapeutics to benefit patients suffering from indications with significant unmet treatment needs. AlaMab was founded in 2017 and is led by a skilled management and advisory team with substantial experience in antibody and pharmaceutical development.
---
Qingxi (Charles) Wang
PhD — Chairman & CEO
Dr. Qingxi (Charles) Wang serves as a Director on the Board and Executive President of CSPC Pharmaceutical Group, Ltd. He is also President of the CSPC International Division. Dr. Wang holds a PhD in Chemistry from the University of Connecticut, and an MBA from Temple University. Prior to joining the Group, Dr. Wang worked at Merck & Co., Inc. in the U.S. for over 20 years, where he held senior positions including Director of Pharmaceutical R&D and Managing Director of Business Development and Operation. He is responsible for business development and the overall management of AlaMab.
Yanfeng Zhang
PhD — President
Dr. Yanfeng Zhang completed his PhD in Genetics/Biochemistry from Michigan State University and post-doctoral studies at Pacific Northwest National Laboratory and University of Texas Health Science Center at San Antonio. He has over ten years of combined industrial and academic experience in protein structure and function, manufacturing, and drug development. Before joining AlaMab, he was a Director at XBiotech. Dr. Zhang is responsible for the overall operation, pre-clinical development, and coordination of clinical trials of AlaMab.
Scientific Advisory Board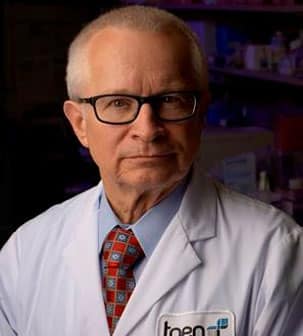 Daniel D. Von Hoff
MD,FACP — Co-Chair
Dr. Daniel D. Von Hoff is currently Physician in Chief and Distinguished Professor at the Translational Genomics Research Institute (TGen) in Phoenix, Arizona. He holds the Virginia G. Piper Distinguished Chair for Innovative Cancer Research at HonorHealth Clinical Research Institute, and the Margaret Givan Larkin Endowed Chair in Developmental Cancer Therapeutics at Hoag Hospital. He is also the Medical Director of Research at McKesson Specialty Health and the Chief Scientific Officer for U.S. Oncology Research specializing in Phase I clinical trials. Additionally, he is a Professor of Medicine at the University of Arizona and at the Mayo Clinic, Scottsdale, AZ, and a Senior Consultant of Clinical Investigation at the City of Hope. Prior to conducting his residency in internal medicine at UC San Francisco and a fellowship in oncology at the National Cancer Institute, Dr. Von Hoff attended Carroll College and Columbia University.
Dr. Von Hoff's primary interest is in the development of new anticancer agents, both in the clinic and in the laboratory. He and his colleagues were involved in the early development stages of many FDA-approved agents now used routinely, including mitoxantrone, fludarabine, paclitaxel, docetaxel, gemcitabine, irinotecan, nelarabine, capecitabine, lapatinib, vismodegib, nab-paclitaxel, nal-IRI, pexidartinib, and others.   His clinical trial work has led to the approval of three of the four drugs currently approved by the FDA for the treatment of patients with advanced pancreatic cancer. At present, he and his colleagues are concentrating on the development of therapies for patients with advanced pancreatic cancer.
Dr. Von Hoff has published more than 741 papers, 143 book chapters, and over 1186 abstracts. Dr. Von Hoff has received many awards throughout his career, including the 2010 American Society of Clinical Oncology (ASCO) David A. Karnofsky Memorial Award, the American Association for Cancer Research (AACR) Distinguished Public Service Award, the 2011 Scripps Genomic Medicine Award, 2014 Hope Funds for Cancer Research Award of Excellence, 2015 Wallace A. Reed MD Award, 2016 OncLive Giant of Cancer Care® designation, 2014 ASCO 50 Oncology Luminaries designation, and among the first class selected in 2013 by the AACR for its Fellows of the AACR Academy.
Dr. Von Hoff was appointed to President Bush's National Cancer Advisory Board in 2004-2010. Dr. Von Hoff is the past President of the AACR (the world's largest cancer research organization), a Fellow of the American College of Physicians, and a member and past board member of the American Society of Clinical Oncology. He is a founder of ILEX™ Oncology, Inc. (acquired by Genzyme after Ilex had 2 agents, alemtuzumab and clofarabine, approved by the FDA for patients with leukemia). Dr. Von Hoff is a founder and the Editor Emeritus of Investigational New Drugs – The Journal of New Anticancer Agents and past Editor-in-Chief of Molecular Cancer Therapeutics. He is a co-founder of the AACR/ASCO Methods in Clinical Trial Cancer Research Workshop, which has graduated more than 2100 clinical trial physicians. He is also proud to have been a mentor and teacher for multiple medical students, medical oncology fellows, graduate students, and post-doctoral fellows.
Jean X. Jiang
PhD — Co-Chair
Dr. Jean X. Jiang is currently a Professor of Biochemistry and Structural Biology and the Zachry Distinguished University Chair at UT Health San Antonio. She is also the Associate Director of the Joint Biomedical Engineering Graduate Program at The University of Texas at San Antonio and UT Health San Antonio. She obtained her Ph.D. in Biochemistry from the State University of New York at Stony Brook and was a post-doctoral fellow and an instructor at Harvard Medical School.
Dr. Jiang joined UT Health San Antonio in 1997 and has been continuously funded by the National Institutes of Health since that year. Other grants supporting her work have come from the U.S. Department of Defense and the Robert A. Welch Foundation, among others. Her research focuses on connexin-based gap junctions and hemichannels in lens, bone, and cancer bone metastasis.
Dr. Jiang is an elected Fellow of the American Association for the Advancement of Science (AAAS) and an elected Fellow of the American Society for Bone and Mineral Research. She was honored with the Master Research Award for Distinguished Researcher from the Joe R. and Teresa Lozano Long School of Medicine at UT Health San Antonio in 2017, the UT Health San Antonio Presidential Distinguished Senior Research Scholar Award in 2018 (the highest honor for a researcher at UT Health San Antonio).
Dr. Jiang has published more than 130 papers, including journal articles in Proceedings of the National Academy of Sciences, Developmental Cell, Oncogene, Immunity, and others. She has served as an associate and an editorial board member for multiple journals, including the Journal of Biological Chemistry and Matrix Biology and has served on many U.S. and international research review and advisory panels. Jean is also committed to teaching and mentoring students, postdoctoral fellows and young scientists.